Just about every Board of Directors or Board of Trustees of any type of organization (for- or non-profit) gathers together on some kind of regular basis to discuss the policies and administration of their beloved organization. On an annual or biennial basis, the Board goes on a retreat together. What usually happens at this Board Retreat is more of the usual business, just at a deeper level of conversation. So, if you, as a member of your Board, have been raising the issues you encounter in your non-profit, the annual Board Retreat becomes an opportunity to have longer discussions about those same topics. I have it that your time together could be spent in a much more efficient manner. Non-profit Board members have the unique position of investment, in that they are emotionally invested in the cause of the organization they administer. This means that revenue generation is not the sole aim, which allows for a wider range of thinking in achieving your mission–it's not all about making money. It also means that you most likely have intertwined your heartstrings into the organization. When anyone criticizes your beloved organization in a manner displeasing to you, or questions your abilities or motives, it pulls on those heartstrings. It hurts. I invite you and your Board to one ofmy weekend facilitated Board Retreats.You' ll see that I forego the more simple, task-oriented material in favor of deep, interpersonal learning that strengthens your Board into a team, not just a like-minded group.You will delve into yourselves; you will invite others into your mind and heart, and be invited; you will learn the simple, yet profound communication techniques that every Board member must employ; and, of course, you will plot a co-created course for your organization that will leave all of you with a renewed sense of purpose and direction.
---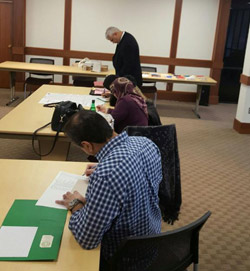 Here's what one of my weekend Board Retreats might look:
Friday
- Check in Friday evening and opening activity
- Discussion of goals, expectations, outcomes
- Dinner and social activity

Saturday
- Discussion around truth and choice
- The Human Element behavioral assessment
- Deep dive into interpersonal relations
- Lunch and personal reflection
- "What's really going on in this organization?"
- "My role…beyond 'he said, she said'"
- Revisiting your vision and mission
- A year plan

Sunday
- A year plan continued
- Final outcomes and the path forward
- Check-out Sunday afternoon and reflection activity

---



Give me call at 703.725.4831. or click below to connect with me

We'll talk about what you really want and the best way to get there in a powerful weekend Board Retreat.